There is yet a 3rd Bloggerhood Ad on the PC, this time for the TC S1 items.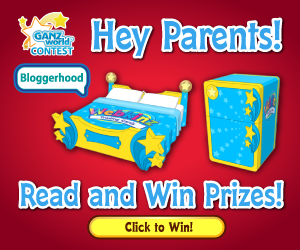 Stop by the Ganz Bloggerhood and look for the special ad on the top of the pages in the articles. If you find one, click on it and win some great Webkinz prizes! Look for the Bloggerhood Blast 3 Click to Win ad (below) between
to win special Bloggerhood Blast prizes! You can win one item per Webkinz World account per day! Some prizes are more rare than others.

Here is a list of prizes available to be won:
Trading Card Bed
Trading Card Chair
Trading Card Clock
Trading Card Desk
Trading Card Dining Table
Trading Card Dresser
Trading Card Fridge
Trading Card Side Table
Trading Card Sofa
Dragster TCG Poster
Pool TCG Poster
Quizzy TCG Poster
Wishing Well TCG Poster
Zoangoz TCG Poster