Challenge Map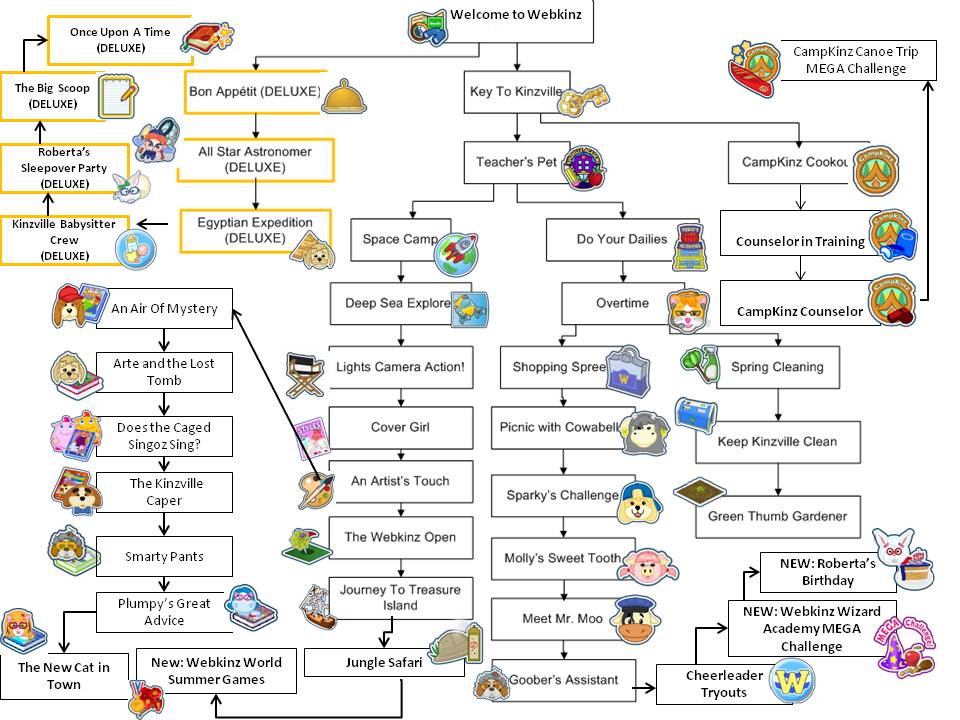 ---
Key to Kinville
Teacher's Challenge
Do Your Webkinz Dailies
Space Camp
Deep Sea Explorer
Overtime
Spring Cleaning/Tidy Up
Keep Kinzville Clean
Shopping Spree
Meet Mr. Moo
Jungle Safari
Cheerleader Tryout

Smarty Pants

Plumpy's Great Advice
CampKinz Canoe Trip (Mega Challenge)

The New Cat In Town
Webkinz World Summer Games
Wizard Academy Challenge (Mega Challenge)


Roberta's Birthday


---




Fantastic Deluxe Challenges




Some of the Challenges are for Deluxe Members ONLY! (According to the WKN)




Fantastic Deluxe Challenges

Calling all Deluxe Members! If you like Challenges, you're in luck – we've got two Challenges that are especially for Deluxe Members. To do these Challenges, just visit your pet's room and look for the Challenge Icons. You'll love "Bon Appétit" and "All Star Astronomer" – and the prizes you can earn! With "Bon Appétit," you'll get to appeal to your pet's inner gourmand. Hone your pet's skills for all things gourmet, and earn yourself some recipe foods, Chef Gazpacho's Place Setting, and a gorgeous Dining Out Table. In "All Star Astronomer," your pet will get to explore outer space, help Goober in his lab, and fly a Hoppy Little Rocketship, among other things. When your pet succeeds at this Challenge, they'll receive some tasty food, a Solar System Poster and a Star Crossed Chest. Have a BLAST playing these two new Challenges!

DELUXE



---
***Thanks to COONY for pointing out that you should be careful not to send out to many of the same requests to to different friends as they disappear from your list.***
Update: The "Friends List" with in the Challenges is running on a 24 hr cycle when the time changes to a new day your friends list will be reset.
Here is a list of Non WShop items you will get throughout your Challenges that you may choose not sale/trade or give away.
Spoiler
Regular Challenges
Teachers Challenge - Choir Robe is a Host gift
Dailies Challenge - Superintendents Window is Estore
Space Challenge - Dex Dangerous Landing Pad is a TC item
Deep Sea Challenge - Sunken Ocean Liner Wallpaper and Sunken Dining Hall Chair is Estore
Overtime Challenge - Diner Waitress Dress is a Host gift
Cleaning Challenge - Cleaning Supplies (may be Estore not sure) & Monkey & Monkey Tree is a TC item
Kinzville Park Challenge - you get the complete Zodiac Earth Outfit (Your choice whether to sell or not)
Shopping Spree Challenge - Spree Standee is from the Spree Mall & the Shopaholic Wallpaper and Flooring is Estore
Picnic Challenge - Picnic Basket is Estore
Directors Challenge - Hot Pink Studded Shades are Kinzsytle & Fantasy Movie Poster & After Party Red Carpet are both Estore
Cover Girl Challenge - Magazines are from the Jessie promo (I think) & Webkinz Tiara and Gown are Challenge item (can only be gotten through this challenge)
Gardener Challenge - Hay Bale is a Daily Carez/log out prize, the Scarecrow Outfit is a Retired Halloween item & the Secluded Garden Bench is a Rare.
Artist Challenge - Painters Smock is Challenge exclusive & Chef Gazpacho Sandwich Maker is Estore
Golf Challenger - the entire Golf Outfit you get is Kinzstyle
Sparky's Challenge - the entire Outfit is from Series 1 TC
Molly's Challenge - Factory Overalls is a Host gift & the Candy Factory Wallpaper and Flooring is Estore
Mr. Moo's Challenge - Mr. Moo Chocolate Bar is a Retired Food item & Mr. Moo's Milk is from Mr. Moo's Milk Dispenser that can be purchased at the Estore
CampKinz Cookout Challenge - CampKinz T-shirt is a Host gift, Life Jacket is from the Retirement Game & Campkinz Canoe Paddles are from the Estore
Goobers Challenge - all the item (except the food item) are from the Retired Scientist Rare Theme
Treasure Island Challenge - Pirate Top is from Vacation, Navigation Globe is a TC item, and Pirate Princess Hat is Estore
Jungle Challenge - Safari Hat is from the KinzCostume you get from a T-shirt code (I think) & Tropical Rainforest Walls & Floors is a Signature Endangered package.
Camp Counselor Challenge 1 - Hiking Boots are Estore, Hallow Log Lounger is a Signature Endangered Exclusive & Pig Paradise Lake is Estore
Camp Counselor Challenge 2 - Life Jacket is a Host item, Letters From Home was from a click to win event & Harmonious Hammock is a Signature Endangered Exclusive
Cheerleader Challenge - Megaphone Lamp & Pom Pom Bean Bag Chair are both FSIs & Cheerleader Tank Top & Skirt are both Kinzstyle.
An Air of Mystery Challenge - Kinzville Times 1st Edition is an FSI, Doug the Dog Plush is a Challenge Exclusive, Medieval Unicorn Tapestry ???
Arte & the Lost Tomb - Egyptian Vase, Sacred Pyramid Flooring & Golden Hippo Fridge are Rares, Wacky Zingoz Plush is from the Smurf Promo
Does the Caged Zingoz Sing - Fluffington's Vest & Marble Bust are TC items & Dream In Pink Piano is Estore
Deluxe Challenges
Bon Appetit Challenge - Dining Out Table is a FSI item
Astrologers Challenge - Gold Star Chocolate Bar is from the Deluxe Prize Machine, Solar System Poster is from the Jessie Promo & Star Crossed Chest is from the Estore
Egyptian Challenge - Scared Pyramid Wallpaper & Flooring are Rare items, Kitti of the Nile & Pharaoh's Helm are both Estore
Babysitters Challenge - Big City Backpack & Makeup Bag for from the Jessie Promo
Roberta's Sleepover Challenge - Dex Dangerous PJs & PJ Party Sleeping Bag are both Estore
Holiday Challenges
Halloween Challenge - Blue Bubble and Trouble Witch Outfit is Estore
Harvest Challenge - Garden Hose is a Daily Cares/logout prize, Harvest Time Poster is a Retired Fall Fest item & Magic Bean Plant is Estore
Christmas Challenge - Music Stand & Webkinz Top Hat are both Challenge Exclusives
Winter Fest - Winter Wreath is a FSI from the estore & Arctic Tundra Wallpaper & Flooring is a Signature Exclusive Package
This thread is closed to comments, please ask any questions and chat about these challenges in THIS thread.