There is a new Treasure Hunts on the WKN
Road Trip Treasure Hunt
Ends June 17th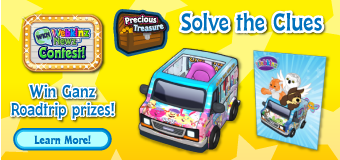 Prizes
Road Trip Spree Pieces (three pieces in total)
Road Trip Poster
Back Country Road Trip Poster
Road Trip Pop Art Poster
Road Trip 2011 Poster
Virtual Webkinz Van
Clue #1
The motor's running! Hop on board! The Van is set to go! Next stop is where you'd go to test the Webkinz facts you know!


Clue #3
Can't get to the Road Trip? That's okay! We'll bring it to you. Ready to play? Head on over to catch the van! It's where you can chat with other fans!


Clue #4
Where's the next stop? Let's find out! Get ready and get set! On to where we're told to remember what we shouldn't forget!


Clue #5
Hooray! We're off! Let's travel 'round. Webkinz Newz we'll explore! Our next stop's where you'd find new pets that Webkinz has in store!


Clue #6
The Road Trip's all about playing cool games and making friends wherever you go! Our next stop combines fun games with what you use to talk to people you know!


Clue #7
Our next stop is the perfect place to take our Virtual Road Trip Tour! 'Cause when this event's over you can go and check for more!


The Clues appear in a random different order each time and not nessecarily in the order posted here
There are Links to the answers for the Treasure Hunt to make it easier for you!